As marketers, data is one thing we've always got in abundance, and that means we should all be putting it to good use. Here at JSA Interactive, we place strong emphasis on tracking and analysis in everything we do, and we encourage all of our clients and our blog readers to do the same. The data you collect about a specific advertising campaign can not only help you improve that specific campaign, but also give you great direction on where to take other campaigns you're working on currently and in the future. As our resident tracking & analysis guru says, "As a Google Analytics certified advertiser, I use analytics in many ways, such as: tracking multiple advertising networks, looking at user paths to increase conversions, and use the data to improve PPC campaigns. Analytics is a powerful tool that can help generate more revenue, decrease cost per conversion, and keep track of your advertising. I would suggest that everyone install some form of analytics and start using the tool today."
When you're new to the game, however, it can sometimes be difficult to tell exactly where you should be focusing the bulk of your analytics efforts. Are you doing enough? Not enough? Should you focus on something else or spread your efforts out even further? To get an idea of where you might want to head with your own marketing analytics efforts, it can help to hear about what others in your position are doing (or plan to do), and Marketing Sherpa's newly released "Top analytics objectives for 2013" chart can help you do just that.
Tracking & Analysis: How do your analytics objectives for 2013 stack up?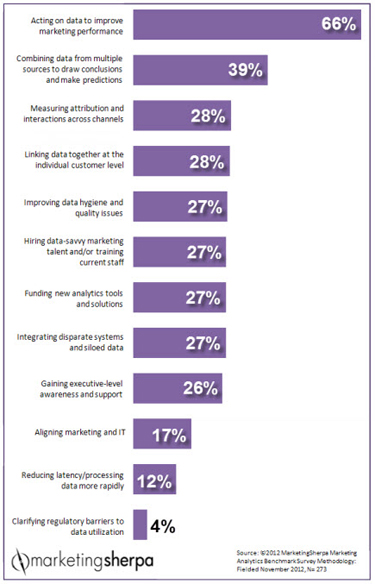 Click here to see a larger version of the "2013 Analytics Objectives" chart.  
It's clear from the businesses surveyed by Marketing Sherpa that acting on data to improve marketing performance is most everyone's top priority. Where do your marketing team's efforts fit in?