Your website is your company's ambassador on the Internet, and that means it has to make a good first impression to potential new customers. For many businesses, however, regular site updates and redesigns are not part of their industrial marketing strategy – and that's a big mistake. Very few websites are completely perfect right out of the gate, and even if yours was, if you haven't made any changes in a couple of years, it's certainly not perfect anymore. Technology and web usage trends change by leaps and bounds in relatively short periods of time, and the things we're able to do with online marketing now are often light years more sophisticated than they were even 2 or 3 years ago. To stay competitive and keep growing, your site must stay competitive and keep growing with you. After all, 85% of your potential customers are using the internet.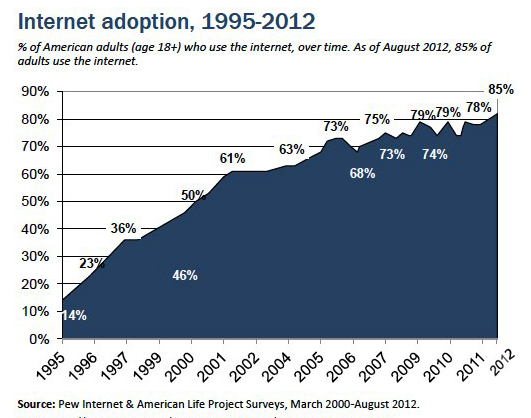 So how do you know if it's time to redesign? Pull up your site in another window, look at it objectively, and ask yourself the following questions:
Industrial Marketing Strategy: Questioning Your Site Design
How long has it been since we last updated this thing? – If it's been a few years, then it's likely time for some updates, if only to bring your technology up to speed. Adjusting your site to incorporate social media buttons to encourage sharing, for example, is both a smart and necessary move.
Is it well organized? – Navigation is one of the most important parts of your website. It should be easy and intuitive for users to get around your site and find all the information they need. Often, businesses tack new pages onto sites without restructuring the navigation accordingly, which leaves something of a jumbled mess. Look for spots where you could consolidate information to make it more concise and remove information that is no longer necessary. The more streamlined the site is, the better off your users will be.
Are we dating ourselves? – Ever walk down the street and see a somewhat dingy-looking restaurant with "VOTED BEST BURGER IN THE CITY, 1999!" in the window…except it's 2012 now? Does something like that give you confidence in the brand? No, probably not – whether it's because the owner was too lazy to update the sign with a more current award, or because that was their last hurrah, and they haven't won any awards since, dating themselves so prominently very likely isn't doing their brand any favors. Awards and other special events – like the time your CEO was a keynote speaker at a major industry conference, for example – are great for social proof and should certainly be included somewhere, but make sure you keep them up to date so it doesn't look like everything good you've done happened 10 years ago. Which brings us to…
Does our site just look out-of-date in general? – The actual aesthetics of your site are subjective, of course, but when a site looks old, it just looks old. If you're not sure whether or not your site's design is holding up well against the competition, go look at the competition and see what their sites look like – you may need to do some general sprucing up to stay in the game.
These are just a few of the questions you can ask yourself to determine whether or not it's time to incorporate site updates and changes into your industrial marketing strategy. Don't let your website fall by the wayside or your conversions may fall by the wayside, too.
[single_callout/]