Facebook ads are an efficient and effective way to draw attention to your business as part of your inbound marketing strategy, whether your marketing efforts are focused on promoting a specific product or service or just brand recognition. At this point, there are very few people in the world that aren't using Facebook, so there's no reason not to try to leverage its ubiquity to your company's advantage.
Facebook provides its advertisers with a host of helpful tools and resources, but no matter how helpful they might be, to make sure your campaigns are truly successful, you're going to want to do a little research and get some advice. To that end, we've compiled 3 great Facebook ad tips to give your inbound marketing efforts a little more focus.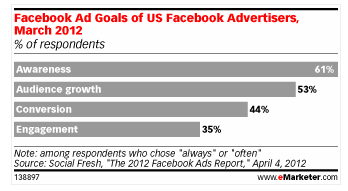 3 Facebook Ad Tips for Inbound Marketing Strategy
Make It Mobile – According to HubSpot, there are 425 million users accessing Facebook from their mobile devices. What's this mean for you? It means that in order to retain interest, the landing pages your Facebook ads lead to need to look good on smartphones and tablets. If a user clicks your Facebook ad via their phone and is taken to a page that won't load well on a mobile device, that's a wasted click you're not likely to get back. Keep landing pages attached to Facebook ads clean, simple, and quick to load.
Make Your Image Count. Facebook ads don't provide a lot in the way of real estate for you to work with. You get 25 characters for your headline, 90 characters for the body, and a mere 110×80 pixel photo (that will be even smaller when it actually displays much of the time) to grab someone's attention and get them to click. The easiest way to make that happen is to make your image count – choose images that are eye-catching somehow, whether it's a pretty lady or something off-the-wall, or consider using high-contrast colors to create an image using text, which will allow you to fit in more characters than you would be able to otherwise.
Choose Your Target Audience Carefully. Facebook provides us with ample tools to really drill down and target the right audience, so you should take full advantage of this. You can target by age, location, gender, interests, and more, and once you've got a good core audience targeted, you can make it even more successful by drilling down even further to find even more specific segments within that group. This will allow you to take quality traffic and split test it to boost quality even more – for example, if you've got a group segmented by interests, try segmenting that further by gender and seeing which ads work better for which group.
And there you have it – 3 great Facebook ad tips for your inbound marketing strategy. Remember that you won't know how well you're doing here if you're not testing and tracking, so as soon as you begin a Facebook ad campaign, keep a close eye on it so you can really get the most return on your advertising investment.
[single_callout/]