Part 1: Get in the Game
>>>Part 2: Got Apps?
Part 3: Demographic Breakdown
Part 4: Pinterest Spotlight
Part 5: How, Where & Why We Connect
Part 6: Social Care & Customer Service
When it comes to checking out user statistics for the Internet, very little is more exciting than seeing a huge jump in numbers, because it sends you a very clear message about what's going on. Smaller number changes are a little more open to interpretation, but when we look at mobile app use numbers in Nielsen's 2012 Social Media Report, the message is very clear indeed.
In 2012, mobile app use more than doubled among American Internet users, from a very respectable 44.8 million in 2011 all the way to a sky-high 85.8 million. When compared to mobile web use in the same time frame, users are spending 7 times more actual time on apps: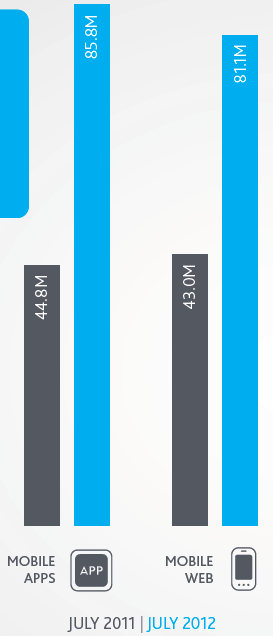 Social Media Report Takeaway
The message here is very clear: app use is up – way up – and that means your business needs to be in on it.
Creating engaging, user friendly, well-designed apps can mean big things for your company's marketing efforts and are definitely worthy of consideration if you're not already using them in your marketing mix.